From Florida (where else?) The Miami Herald announces that Sept. 18 will see the launch of Caliente, a free Spanish language tabloid newspaper promising 40 pages of "weird local stories (no shortage), loud headlines, celebrity gossip, horoscopes, a relationship column, recipes, immigration information, sports – especially futbol y beisbol – and a bikini model."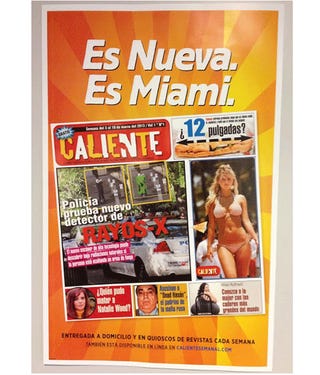 Miami Herald publisher "Landsberg, David" goes on: "Stories are short, photos and graphics large and vivid."
I'm all for old-line papers doing what they can to gain new audiences (or keep their current ones). And if nothing else, Caliente is sure to provide a new go-to source for Florida oddities to feed the Gawker main page. But what is it about this memo and presentation that nags? ¡Ay, caramba! Loosie, you have some splainin to dooo!
via Romenesko (from Bill Cooke at Random Pixels)