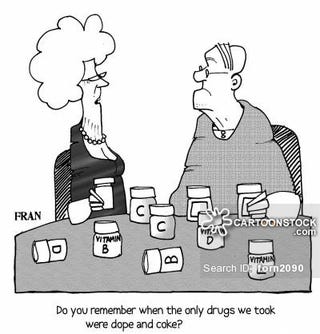 A few days ago I did a piece on how to save oodles of money(hundred$ in my case) when purchasing prescription glasses (even with insurance). Today I'm going to share a tip on prescription medication.
After the passage of the Affordable Healthcare Act(aka Obamacare...ugh hate that name), most Americans have prescription insurance coverage. But there are a few people, like myself, who fell through the cracks, or simply refuse to participate in the program. This info is for you.
Do a quick Google search for prescription discount cards. Skip any "programs" that require any type of "membership fee". Chances are high it's a scam, with hidden recurring charges, and almost impossible to opt out. You can find a decent reputable card for free if you do your homework. Many communities offer discount cards simply for being a city/town resident. The savings can be significant too. Example, after discharge from the ER earlier this month, I had to get a prescription filled. Initially, the price was $43. But I remembered I had my discount card saved on my phone. After using my card, the price dropped to $19!
Savings may vary due to card selected, meds filled, and pharmacy participation. And IIRC, those who participate in government insurance programs are ineligible. Not all pharmacies accept every discount card. So print out, write down, or screenshot 2-3 different cards just in case. If you do a screenshot, show the pharmacy your device, and they'll write down any relevant information.
Also if you're patient enough, and are willing to pick up your prescription at a later time, ask the pharmacy to try out different cards for you, selecting the one with the best savings. It can take a couple of minutes to enter, and process each card(not including time it takes to enter RX), so go when its less busy. And if you're willing to be patient, its usually worth it. If you let the tech or pharmacist know you're willing to give them adequate time to fill RX/process insurance, and can come back either later on that day(next day is even better), they shouldn't have any problem helping you out whatsoever. My pharmacy's non-peak hours tend to be 10-11am/7-9pm, but yours will obviously vary. In most cases if you explain why you are trying out various cards in an attempt to see which one has the best savings, they're usually more than understanding about it.
The process can get cumbersome when you're on more than a couple meds. If this is the case, just keep a written record of which insurance saves the best for which medicine, having a copy handy when refilling. CVS(not sure about other pharmacies) makes record tracking a bit easier to keep track of. The label attached to the outside of the prescription bag will show which ins. plan was used for that particular medication(it's below the RX quantity).
IIRC AAA, and other simlar memberships offer prescription discounts. Some credit card companies even offer RX disc. deals.
Another tip is free antibiotics during flu season from grocery stores. Most commonly used antibiotics like Amoxicillin, generic Bactrim DS(Sulfamethoxazole/Trimethoprim), and Penicillin are dirt cheap because their generic has been out on the market for such a long time. And grocery store pharmacies are willing to give them away, betting on the fact that you're going to need other related, and more expensive products to go with your RX. Stuff like gauze, decongestants, juice, stuff like that. Whether or, not it's necessary is totally up to the individual.
All of the info provided is solely from what I've remembered over the years, so if I'm wrong, mis-remembered, or there was a policy change please let me know, and I'll fix what I wrote.If you have any tips to add feel free to do so. Here are some helpful links:
Free Antibiotics/Diabetes/HBP Medicine:
Publix