Who here sees one of those great sci-fi user interface scenes and is instantly so geeked out by the potential that they could hardly form a thought more coherent than 'WANT'?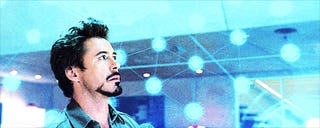 I really hope there are more of you out there and it's not just some sort of seizure I keep having.
The thing is, we should have this already. . . and quite a bit more. In fact, we could've had a lot of this for years (and would have if we had an actual consumer driven market . . . but that's for another article!). We have to assemble a couple of ideas together, but when we're done I think you'll agree that we've all been done a grave disservice.
Let's start with two pretty well known commodities. . . Google Glass and the Oculus Rift. As devices they're pretty different technologically, but at their little hearts of hearts they're both expressions of an improving ability to project an interface right in front of somebody's eyes.