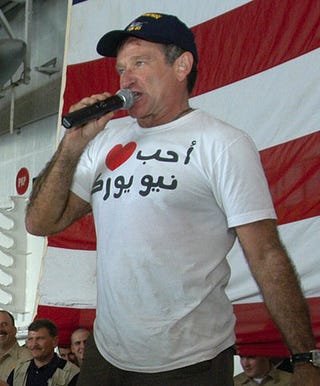 Last week, I read the Rolling Stone in memoriam for Robin Williams, which doesn't appear to be available for free online and is only previewed, then later I ran across an hour-long PBS Special, "Robin Williams Remembered", which used clips from one of his last interviews and remembrances from some of his friends.
I'm embedding the PBS special below and I highly recommend getting a copy of the Rolling Stone with Williams on the cover or downloading the article from iTunes because though there may not be a lot of new information, taken together and coupled with the circumstances of his passing and what we've learned since, it could put things we've seen and stories we've heard in a new perspective. For example, I wasn't able to find after learning of his death, but I remember an old appearance of Billy Crystal on Leno, where they talked about going to a ball game with Robin and how he came alive performing for the crowd. In the Rolling Stone, Bob Zmuda shared the following tale.
Mass success didn't lessen that need to put on a show, as Zmuda witnessed when he visited Williams at his San Francisco office to discuss a project. Zmuda was ushered into a conference room with only Williams. "It was so uncomfortable," Zmuda recalls. "he broke out in a sweat because there wasn't an audience there. He couldn't put fuckin' words together".

When Garces (Williams' 2nd wife) walked in to take part in the meeting, Williams sprang into action. "He hit the switch and starts performing," Zmuda says. "He's jumping off the walls. He's doing this just for you. You're laughing your ass off, and your eyes are tearing." Williams only stopped when Garces clapped her hands together like a teacher and said, "Robin, stop it!" Willams, Zmuda remembers, "put his head down and his hands together like a little kid who was scolded. This was more than just a guy being funny. It's what he needs to do. If he's not doing it, he gets uncomfortable".
I had wanted to post the Zmuda quote and the PBS video earlier, but it wasn't available until next-day and by that time I had gone onto something else — I probably have four posts in my mental queue, but between work and a relative dying, plus putting together my first Webelo meeting and dealing with some politics, I haven't had a chance. What prompted me to actually make the post was when I was looking at the list of "Weekend Update" anchors, I saw that Robin did a turn in 1984, which sent me to Yahoo! to see if there's a video. Unfortunately there's not, but they do have nine clips of him from SNL, including three monologues.
The editors of RollingStone.com have also compiled a couple of clip lists, including his "13 Funniest Impressions" and Hulu has 39 episodes of Mork & Mindy streaming for free.
(It appears Kinja is still having problems with some videos in some browsers. If you don't see a still in the PBS player or if the embed doesn't play for you, it can be accessed via PBS's Robin Williams page.)