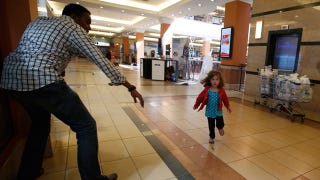 Here is a video about him talking about the attack and how he became involved.
Haji is an ethnically Somali businessman in Kenya, who first went to the mall because he was worried that his brother—who worked for a Kenyan politician—was being attacked and ran to the mall to rescue him. He and his group helped facilitate the rescue, including one of an American woman who had three children and couldn't run across to safety—so she had to send her four year old daughter ahead—as is pictured above. She and her other children were rescued, later joining her teenage sons outside.
Abdul was at the front-line saving strangers. He helped any person in need.

"I found a desperate situation... I heard people screaming from inside the mall. Most of the guys who were armed got their guns out, at this point I also felt I should do the same. So I got my gun as well. We started giving cover to the Red Cross people to get the survivors out. We were now looking out for each other and protecting each other," a humble Abdul recounts.

It's been several days since the attack, but Abdul freshly recalls moving scenes of the very young, the old looking for the smallest chance to escape the hostile and merciless terrorists.
It's relevant that he's ethnically Somali, because remembering that many of the Muslims in Kenya, like him, love their country and some of them are willing to risk their safety to save their countrymen (and women) is important when the world (and especially Kenya) works to make sense and move on from this horrific event.