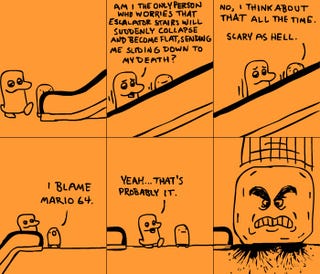 Escalaphobia:The fear of escalators
Gawker did a story yesterday about an Afgani hornet's exploding, and subsequently attacking a remotely operated camera. http://gawker.com/afghani-hornet…. I have yet to watch the video because of my fear of any insects that can fly.
And it got me to thinking. What are the phobias of other Gawker commenters? .
My phobias include:
-Dogs
-Spiders
-Large flock of birds.
(Thanks to Hitchcock)
-The dark (Thanks to a Thriller poster I
had to sleep under in the 80's)
-Butterflies
List yours in the comments.
Photo courtesy of: The Adventures of Left & Right http://lr-comic.com/