NO THANKS TO CHEERFUL! WHAT A JUXTAPOSITION OF AN USERNAME! CHEERFUL! HA! EVIL IS MORE LIKE IT!
While many of us are nestled in our respective couches and/or beds, in our respective homes in our respective states, we should take a moment to remember our fallen soldier, Sugarhill.
What can be said about Sug? We remember her as kind of a lovable pain in the ass, equal parts profound and idiotic. But she stood up to what's right, in the face of an adversary, Sugarhill kept her cool, and stuck up for what's right, when most of us would be like:
and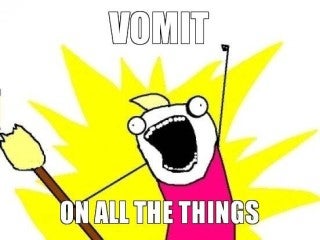 So today and perhaps tomorrow and perhaps the next day, we mourn for our guiding light, the hot water to our Ramen, the silver tequila in our margaritas. The one that completes us was banished by the evil whims of an evil button pusher.
Here's to you, Sugarhill.