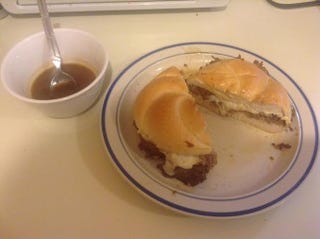 I've been on a major French Dip sammich kick lately but never really got around to actually making one for myself because we don't usually keep stuff like beef broth or red wine around, and when we do have wine there certainly isn't enough left over to do anything with it. So anyway, today the craving kicked in around lunchtime and since I don't really know anywhere near my place to get a good one I figured it'd be a good time to just do it with whatever we had around the apartment and a couple of things I knew I could pick up at the small grocery store a few blocks away. My weird food experiments sometimes come out pretty good, and sometimes they're disasters I resolve to never tell anyone about ever again. This one came out fucking insane. Pretty much all the amounts in this are estimated so if you wanna make this for yourself just judge how much to put in by how dominant you would want that particular ingredient to be in the final dish.
EDIT: So when the post loaded I noticed that the first thing on the "recommended by A. Random Asshole" list was the article "Scientists Fail to Find a Link Between Saturated Fat and Heart Disease". Consider this recipe a celebration, I guess...
Ingredients:
1 1/2 cups of beef broth
a glug (or four) of whiskey
a glug of soy sauce
a tablespoon of butter and bacon grease
about 2 tablespoons of tomato sauce
about 10 drops of Worcestershire sauce
about 2 tablespoons of onion diced as finely as you can (I basically took two really thin slices off of half an onion we had left over from something we made the other day)
2 garlic cloves diced finely
5 slices of roast beast
1 roll
mayo
mozzarella cheese, cut into cubes or shredded
salt, pepper, adobo seasoning to taste
Instructions:
Melt the butter and bacon fat in a 12" pan and sautee onions on low heat till soft, seasoning with salt, pepper and adobo. Throw in garlic and cook till aromatic. Pour in broth, whiskey, soy sauce, tomato sauce and Worcestershire sauce and stir them around until well combined, then lay in the slices of roast beast. There should be enough liquid to almost cover the meat with all of the slices laid on top of each other and pressed down to soak them. Simmer until reduced by half. Pour sauce into a cup for dipping and keep the roast beast in the pan. Arrange slices into sammich formation with about half of the mozzarella on top. Cook covered on low till mozzarella melts. Put mayo on roll, and put the other half of the mozzarella on the bottom half of the roll. Once the cheese is melted into the roast beast in the pan, drain any remaining liquid from the pan into the cup of sauce. Lay the top part of the roll on top of the whole thing, making sure there isn't too much hanging over the sides. Carefully flip the whole thing over onto a plate, put the bottom half on, cut your sandwich in half to facilitate easy dipping, and dig in.