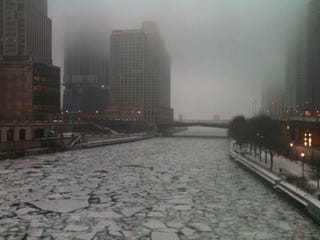 The Chicago River is freaking hilarious. It's totally cracking up. Get it?
No, really. I've never seen it do this before. Kind of cool, don't you think?
Our shit's been all weird with it being insanely cold, to suddenly warmer. The snow melted quickly, and it seems like every street corner is nothing more than an extension of Lake Michigan (flooded). Hope you brought extra socks today. Also, watch out for black ice and plummeting skyscraper icicles. Joy.
Chicagoans like to complain about the weather. Hope I'm doing it right, one beautiful photograph at a time.