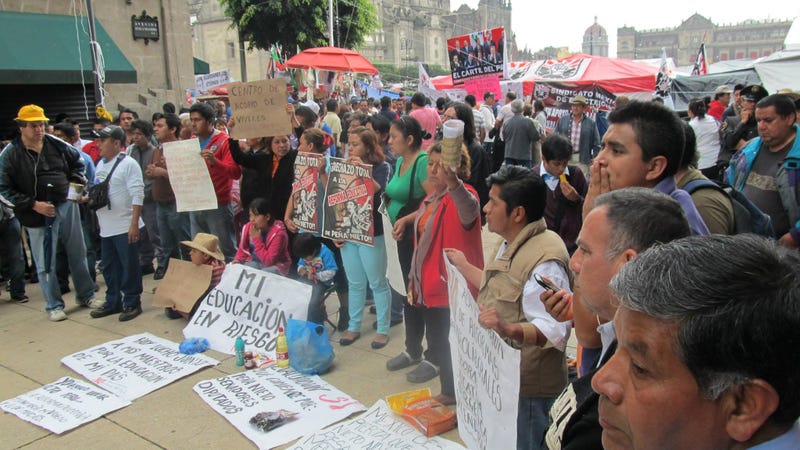 A few months ago, I was in Mexico City. My hostel was in El Zocalo, the grand plaza which surrounds a gorgeous cathedral. Not only was I amazed to find myself smack dab in the center of one of the world's largest metropolises, but I was also in the center of a thriving movement for political activism. At the time, there was convergence of Mexicans who had come together in hopes of inspiring change within their government. They gave me a glimpse into their politics.
For this particular protest, individuals had traveled from all over the country just to participate in this demonstration. I learned that they were there in favor of education reform. The protestors were disappointed that politicians made so much money, while funding for education had been cut across the board. Many cited the fact that in some Mexican villages, there is such a lack of teachers and learning materials that many children aren't afforded the opportunity to attend school. Some Mexicans grow up unable to speak their own national language. That's right - there are Mexicans who are not educated enough to speak Spanish, and must instead rely upon rural village dialects.
Not only is education the key to social progress, it is also the tool for opportunity and success. This is why many Mexicans stood for reform. The protestors peacefully camped out in the square. They set up tents, and spread large tarps across poles to protect their communities. They sang, they danced, and they grilled tamales. Their signs called for change and their voices called for action.
"We don't want violence, and we don't want blood," proclaimed one public speaker, "We want our voices to be heard and a change from our government."
The day before Mexico's Independence Day holiday, the police came through El Zocalo with tear gas and water cannons. They set fire to the camps, burning the protestor's dreams to the ground. Everyone ran in fear – it was chaos. The news of this upheaval was all over Mexican media. The protestors were blamed for inciting the violence, but they were quite peaceful, I saw it myself.
Upon returning to the United States, I found out that most of my fellow Americans knew nothing about the protests or about the upheaval. It seemed so absurd. It made me think of Turkey, and how difficult it was for their political protests to get media coverage here in the States. Finally they did, so long as the American media could put an anti-Muslim spin on the story. So what about our neighbors to the South? A country whose very borders collide with our own? Do protestors only get a voice when they're fighting typecasts for terrorism?
It's time to take notice of our neighbors next door. We must show appreciation for those who stand for knowledge and education, because these are values we must all come to realize. No matter what you support and with whom you sympathize – seek out information and form an opinion. It's essential to wake up and become aware.
Kat Vallera – Creator of NomadiKat Travel Media, author of Around the World in 80 J's
*Edit: Spelled "Zocalo" wrong. Epic typo, womp womp!