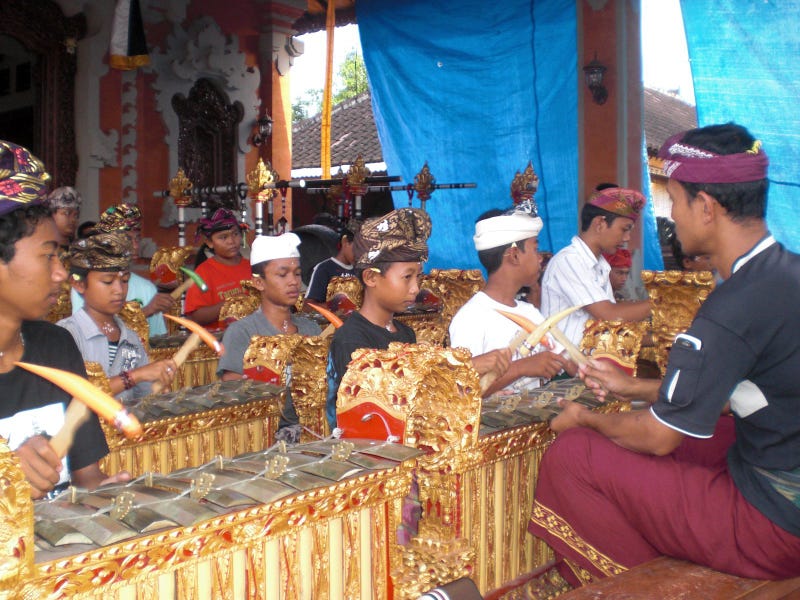 It was in Kerambitan, Indonesia that I had the chance to witness the rehearsal of a Gamelan orchestra. It was an instrumental ensemble consisting of various sized drums, gongs, mallet instruments, hanging cymbals, and bamboo flutes. Each child in the orchestra wore a sarong with a t-shirt, as well as a traditional Balinese wrap around their head. Beneath a blue tarp, the Gamelan musicians practiced with focus and discipline as motorbikes whizzed past on the dirt road outside.
I watched as the instructor went to each section of the Gamelan, teaching every part by rote, before directing it all together into a deeply layered percussive symphony complex in the rhythms of bells, drum beats, and softly ringing chimes. The music echoed through the village, bouncing off the walls of stone Hindu temples and finding its way into Balinese market stalls.
Moving on to Lombok, the next island over, I made friends with a man named Fayed. As we sat around his family's living room eating sweet starchy potato snacks and drinking tea, another one of Fayed's friends came by with a unique Indonesian instrument. It resembling the sitar and was called the bedede. It was cylindrical in shape with a wooden handle tuned diatonically. It was intricately carved and played with a guitar pick.
I learned a great deal about Indonesia's rich musical history while visiting this nation. The country's location as a center of trade and commerce, especially between India, the Middle East, and the Dutch East India Company, brought great cultural diversity to the archipelago of islands. The spread of Islam throughout the fourteenth century introduced new melodic instruments such as the gambus, as well as melismatic vocal elements, to Indonesian music.
It was during this visit to Indonesia that I decided to create Music for Lombok, an organization that aims to bring music, art, and English education to a school and orphanage in Lombok, Indonesia. I was touched by the talent and creativity, as well as the lack of resources, afforded to the children of Fayed's village. Music for Lombok will provide musical instruments, as well as volunteer instructors, to their school. Music for Lombok will be a cultural exchange: our volunteers will teach the children of Lombok as much about Western music and practices as they will teach our volunteers about Indonesia's incredibly rich history of music and culture. There is so much to learn from one another!
After two years of fundraising, we will be implementing the Music for Lombok program in February of 2014. Having built a dream out of nothing, it is certainly exciting to see this creative and philanthropic vision come true. It took a lot of believers to make this all happen, and I've been continually amazed by our backers and ongoing support. Learn more about Indonesian music and culture, as well as Music for Lombok, in my new book "Around the World in 80 J's". Look out for more stories, as well as a full length documentary, about our return to Indonesia as we bring Music for Lombok to life in 2014.
You can support Music for Lombok on Facebook - we're also on Twitter.
I realized that being charitable wasn't about appeasing one's own ego, or about taking personal pleasure in doing good deeds...It would take a group effort, or a community of good-doers, to really make a difference. Charity and good will cannot be hoarded by one. It is something that must be shared amongst like-minded individuals for there to be any kind of meaningful progress.
-Kat Vallera, creator of NomadiKat Travel Media, founder of Music for Lombok