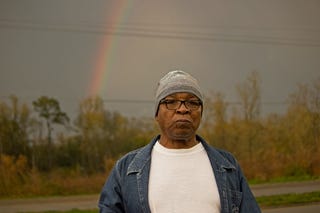 From 1972 to 1976, the death penalty was suspended in the US as a result of Furnam Vs. Georgia, where several Supreme Court Justices expressed concern about racial bias in sentencing. The disproportionate application of the death penalty on African Americans was seen as cruel and unusual punishment. It was reinstated in 1977 in Utah. In 2011, Pat Quinn signs the bill to abolish the death penalty in Illinois, citing the same fears about racial bias. Despite these long standing concerns, currently 32 states and the federal court system have the death penalty.
There are many reasons to oppose the practice of state executions, not just because of the innocent people killed but because of the millions of People of Color discriminated against, deprived of rights, targeted, prosecuted and then unfairly sentenced.
Here is the story of Glenn Ford and how he ended up on death row for 30 years. Please follow the rest of the story at THE EQUAL JUSTICE INITIATIVE.
Thirty years after he was wrongfully convicted by an all-white jury in Shreveport, Louisiana, Glenn Ford was freed from the death row at Angola Prison last week after Judge Ramona Emanuel ordered him to be "unconditionally released." He is the 144th death row inmate since 1973 to be cleared of all charges, and the tenth in Louisiana.

Glenn Ford was charged with the November 5, 1983, murder of Isadore Rozeman, an elderly white man. Mr. Ford had done yard work for Mr. Rozeman, and after the murder, he gave police information about two men who were suspects in the killing. The girlfriend of one of those suspects later implicated Mr. Ford in the murder and he was indicted for first-degree murder along with the other two men.

The court selected lawyers for Mr. Ford from an alphabetical list from the local bar association. Lead counsel was an oil and gas lawyer who had never tried a case to a jury; co-counsel had been out of law school less than two years and was working at an insurance defense firm on slip-and-fall cases - she'd never tried a case, either, and had no experience in criminal law.

The girlfriend who was the State's main witness against Mr. Ford admitted at trial that police had helped her make up her story; she stated she "lied about all of it." Without useful testimony from her, the State's case came to rely on three forensic experts.

One of the State's "expert" witnesses testified about the victim's time of death but had not even examined the victim's body. Mr. Ford's lawyers failed to hire any experts to rebut the prosecution's case because they believed they would have to pay for the experts themselves.

An African-American, Mr. Ford was tried and sentenced to death by an all-white jury. The charges against the other two men were dismissed soon after. The Louisiana Supreme Court unanimously affirmed Mr. Ford's conviction and death sentence even though it was troubled by "serious questions" about the adequacy of the State's evidence.

In state postconviction proceedings, new lawyers presented evidence that the State suppressed information that corroborated Mr. Ford's story that he was not present at or involved in the murder, including information from an informant, a suppressed police report related to the time of the crime, and evidence of the murder weapon, which implicated the true perpetrator – one of the other two men originally charged with Mr. Ford. Three expert witnesses also presented evidence that undermined the State's "expert" trial testimony, but the trial court denied relief, and the Louisiana Supreme Court affirmed. (More at website)
Also read the excellent coverage and follow up at the Atlantic, where this picture was taken. A brief excerpt:
It was the first time that Ford had gone outside in seven years. Seven years. Not because he had been placed in solitary confinement, like Herman Wallace, but because prison officials had so restricted the outdoor activities of the men on death row that Ford considered the exercise futile. He is 64 years old now, remember, with bad knees and hypertension. He didn't want to be outside it if meant being outside in a tiny cage, like an animal, without shade.

Before he left the prison, the head warden at Angola, the legendary Burl Cain ("God's Own Warden" as he has memorably been called) shook Ford's hand and told him that if he, Ford, had any problems on the outside, "you give me a call." It was like another surreal scene from another prison movie. But Ford took this as a sincere gesture, even though it came from an official who has presided over conditions of confinement at Angola that are so deplorable and inhumane that they have been declared unconstitutional by the courts.
From the Sentencing Project: Some context about our incarceration rates.
The United States is the world's leader in incarceration with 2.2 million people currently in the nation's prisons or jails — a 500% increase over the past thirty years. These trends have resulted in prison overcrowding and state governments being overwhelmed by the burden of funding a rapidly expanding penal system, despite increasing evidence that large-scale incarceration is not the most effective means of achieving public safety.

---


More than 60% of the people in prison are now racial and ethnic minorities. For Black males in their thirties, 1 in every 10 is in prison or jail on any given day. These trends have been intensified by the disproportionate impact of the "war on drugs," in which two-thirds of all persons in prison for drug offenses are people of color.