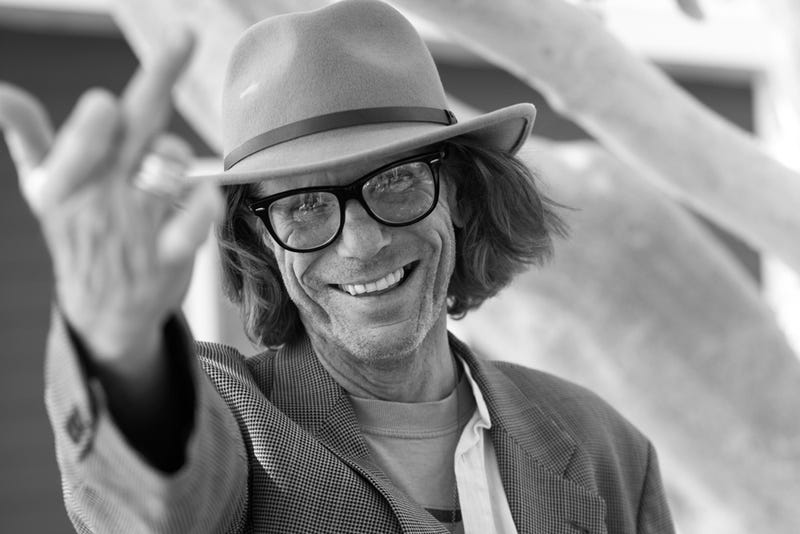 If you've ever had the experience of wasting precious time you'll never get back watching Dr. Drew Pinsky's 'Celebrity Rehab', you might be vaguely familiar with Bob Forrest.
A musician and recovering addict himself, Forrest had many appearances on 'Celebrity Rehab', in which he was a counsellor charged with assisting other addicts in their recovery during their stay with Dr. Drew. Nowadays, he has taken the leap into opening his own addiction treatment facility, called "Acadia Malibu". On the facility's website, Forrest runs a Blog that features a post entitled "Legal Heroin - Chasing The Wagon", in which his feelings about Harm Reduction are made very clear; calling it nothing but a 'con'.
According to his website, "Bob Forrest is considered to be one of the finest drug counsellors living today, assisting everyone from award winning celebrities to struggling teens". Well, I think that statement is highly debatable. According to Acadia Malibu's website, they have comprehensive services which include intervention, detoxification (refers out clients requiring detox), assessment, case management, group, family and individual counselling, recreational activities, experimental therapeutic activities, as well as an outpatient program, and affiliated sober living facility 'Bob's House'. Experimental therapeutic activities and strict, often times alienating abstinence only treatment - or provenly effective harm reduction methods and treatments? Maybe it's just me, but I tend to fall on the side of cold hard facts.

In a recent blog post appearing on Acadia Malibu's website, Forrest takes aim at the model of Harm Reduction, and he doesn't hold anything back. Here is an excerpt of his thoughts on the subject:
"I think there's one idea that ought to unite us all, regardless of your flavour of sobriety, or philosophy of recovery... so-called Harm Reduction. It's a con in my opinion. I have see the suffering and degradation it cases, the confusion it brings to the 12-step program community about who is sober and who is not, the irrational fear of detox, where the list of medications designed to help you avoid actually experiencing any withdraw symptoms grows longer and longer every year; and just generally, the lies and danger and horror it's causing".
Really, Bob? How about not dictating to others what their path to treatment and definition of 'sober' should be? The 12-step program is far from the only effective route to a sober life. I would argue the opposite of Forrest, as I did in my article "The New Sober", that strict abstinence-only programs are actually what is contributing most greatly to the lies, dangers and alienation of addicts. The misconception that abstinence is the only acceptable route to sobriety actually drives away many of those addicts who need treatment most desperately.
That's not all though, Forrest goes as far as to implore others to share how much a 'horror and nightmare' of a treatment Suboxone is.
"It's a modern day Snake Oil scam writ large, messing up the lives of society's most defenceless folks - the sick, spun-out, desperate opiate addict."

"I implore that you who have survived the horror and nightmare of Suboxone start letting your experience be known. Speak your truth, loudly, to every addict within shouting distance."
Let me be very clear here: I have absolutely no opposition to addicts sharing their personal stories, experiences and struggles with recovery and treatment. It's something I myself do fairly often, and it can be very therapeutic and beneficial. I do however, take issue with the spreading of falsehoods and the shaming of maintenance therapies, such as Suboxone or Methadone, and the insinuation that these patients do not qualify for the golden title of sobriety. Every treatment approach has its successes and failures, but for Forrest to use his 'celebrity' as a way to preach falsehoods and encourages others to do so as well about some of the most provenly effective treatments in the field of addiction is flat out irresponsible.
"There is no hell worse than being stuck on 24 or 32 milligrams of Griggs stuff, with no hope of getting clean, enslave to the poison machine your Doctor put you on, a Doctor who took the Hippocratic Oath, pledging 'I will do no harm'. Motherf#&!ing lying sacks of shit".
Hey Bob! I can think of a couple things much worse than being stuck on Suboxone or Methadone. Firstly, the possibility of contracting a variety of communicable diseases that are associated with IV drug use. Second, being a complete and utter slave to needles and suffering through the endlessly painful cycle of addiction for the rest of my life. Lastly, and what I would consider to be a fairly obvious one to most people; death from an opiate overdose or disease contracted through drug use, because desperate addicts are being driven away from effective treatment options by outdated and harmful abstinence only approaches to 'sobriety'.

Let's also not forget that during 'Celebrity Rehab', there were a total of 5 patients who died. Any of those deaths related to opiates, or complications of? You bet! In fact, 3 of those deaths were directly related to opiate abuse. I don't think it's unreasonable to suggest that a little Harm Reduction could have drastically changed those truly unfortunate outcomes. Don't buy Bob's bullshit - sobriety isn't the one way street it's made out to be in Forrest's blog post. Far from it actually. Many different and effective options are available to addicts. Options that allow them to step out of the darkness of addiction and return to a functional, full life. Don't let some hack off TV limit your options on the pathway to recovery.
Information and Image via Acadia Malibu
Originally appeared on Studio L Online