I know! You thought it was impossible. They said it would never happen. Well I found it on sale at Nordstrom's. (Oops, ETA it's Nordstrom. I say it like the backward Florida redneck way I first learnt it.)
It cost $65.66, which frankly is more than I like to spend on a blouse. But it was $98, so I practically stole it. The brand is Free the People and this is a Mixed-Media Peplum Top and she even has her own name, "Clementine." Clementine was raised right, of a silky cotton gauze with individually-sewn little what do you call them, pleats? on the bodice. The 3/4-length sleeves have ruffles, not unlike ridges, and are a combo of jaunty pirate meets wan princess. But with a non-clingy flowiness that says Let me be me, world, or at least pretend I am Shailene Woodley!
The model in the photograph looks so eerily like me we could be sisters so I'll just post her in it. Don't I look gorge? Look at my thigh-gap, btw. I'm so "in."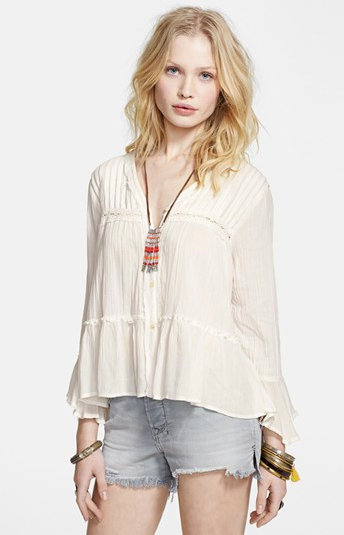 This will go so well with my future floppy hat.