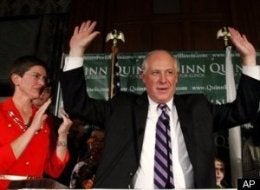 Kind of? I guess? Pat Quinn signed a bill that basically puts it on Chicago to do something while it makes its workers pay more into the program. Quinn signed it because it removed a property tax hike and basically left it up to Rahm Emmanuel to figure out how to come up with revenue not based on property tax.
"This balanced plan relies on efficiencies and savings as part of a long-term funding solution, and I intend to work with city council in the coming months to find alternative options to replace property taxes as the source of the city's first pension payment," the mayor said in a statement.

Chicago's payments to its municipal and laborers' systems would increase over five years beginning in 2016. Workers' current contributions of 8.5 percent of earnings would rise to 11 percent over five years. Instead of receiving an annual 3 percent cost-of-living hike, the bulk of retirees would get increases tied to inflation and skipped in certain years.
Ok Illinois! Doing....something? Maybe they'll raise the rate on the CityBikes? Maybe they'll start putting a tollway system on Lake Shore Drive? Or they could just have evidence locker sales at police stations? Hire bands of armed men to act as trolls in the alleys to shake people down for money? Who knows! Certainly the answer couldn't be to start cutting the benefits of state representatives or maybe start taxing the shit out of charter schools.