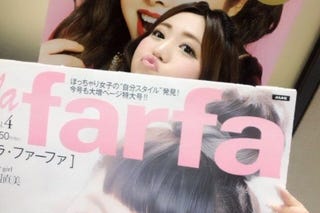 If you're an overweight or obese woman in America, you know how hard it can be just having to exist in a culture obsessed with weight. Now imagine that struggle being slightly harder, with even more pressure put on you to be thin. That's what being overweight in Japan is like, it's absolutely not acceptable there. Check out this article to read more about how "marshmallow girls" originated.
The aim of the new nickname is to associate chubbiness with cuteness instead of the negative connotations of a nickname like "fatty." While the new term inches its way towards viral popularity, netizens seem torn on the issue. Some claim that the term is much more user-friendly and "you're a marshmallow girl" creates a much cuter image than harsh terms like "you're a fatty" or "you're a pig." - See more at: http://audreymagazine.com/tag/la-farfa/#…
My personal opinion is that it's a very cute, positive term that i would much rather be called than "plus-sized" or "fat". Tell me why you like the term or why you don't like it!