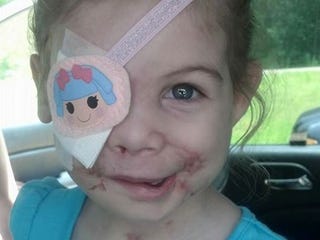 An employee of a Jackson, Miss KFC asked a girl and her family to leave the restaurant, reportedly saying because the girl's scarred face was scaring other customers.
KFC is still investigating the incident but does acknowledge an incident and has tweeted from @kfc
"We are working hard to make this right for the family. We do not tolerate the behavior that happened in our restaurant."
In April, the three year old had been dragged by three pit bulls. According to a Facebook post from the girl's family, the attack caused a broken upper and lower jaw, broken nose, cheek bones and right eye socket and she lost her right eye.
The Facebook account reported on for the Clarion Ledger is not reachable through the link in the story, but can be found by searching for Victoria's Victories
For more information visit The Clarion Ledger