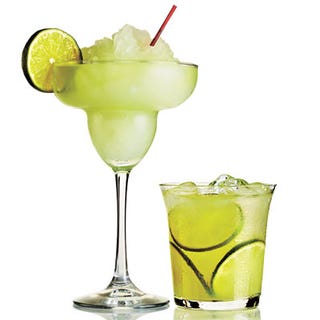 Margarita clearly wins. Here is why.
I am a a chef, although not by trade. I'm more like a fly-by the seat of the pants kind of gal.
We had pizza margherita on the menu last night. Nothing fancy but all homemade, every last bit of it, and delicious.
The two key elements to this story are that I have worked in hospitality for nearly fifteen years but for most of that time as front of the house and that I have a Master's in French studies, linguistics and translation. That last bit is important because I work in a restaurant in France. However, there is one hitch to this scenario. The chef is Catalan but speaks French fairly well. However, the dishwasher is from Andalusia and speaks neither French nor English. So we are a weird mix of foreigners trying to communicate in one language or another.
The point is, last night a server sent me a ticket (we still do it on the handwritten system) indicating 1 margarita and 1 something else. I made the something else and waited for the server to whisk it away to the table. It sat there and sat there, getting all cold and lonely on the pass. Then someone asked why the pizza was taking so long. I said that there was no pizza on the ticket. Only the something else and a margarita.
That is when I became the laughing stock of the kitchen. They all though ha ha, you are too dumb to realize that margarita really means margherita. Hey, I was a bartender for a decade. Margarita means margarita, even in France. The pizza is not the same word.
I was sure I was linguistically correct on this issue, so I even went on a mission to find out the exact definition of "margarita" in French. The proof is in the pudding:
The pizza spelling is margherita in French. My chef (remember he is Catalan but also speaks Spanish) pulled up hundreds of images of "pizza margarita" in Spanish. Are we in Spain? I don't think so. I feel like I was fully justified in thinking that the server had mixed a bar order in with a kitchen order.
That's ok. Next time I'll just chuck the pizza and the tequila in the blender and it will be the best margarita ever!