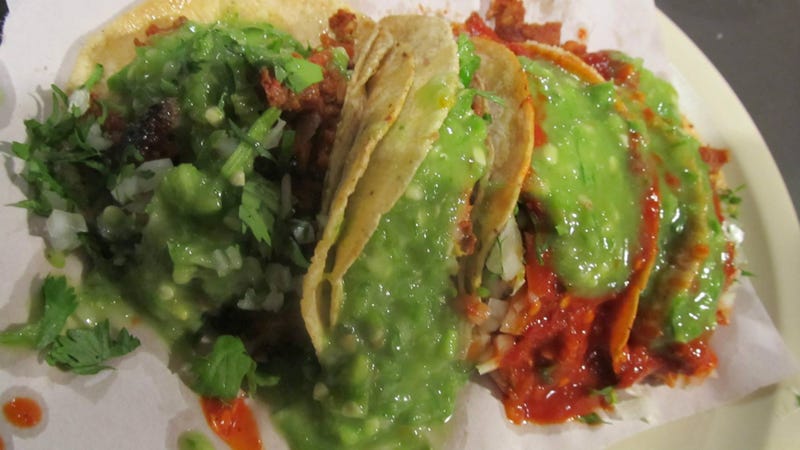 One of the reasons I was so thrilled to visit Mexico was for the food. I am obsessed with Mexican food. I mean obsessed. I'll eat anything wrapped in a tortilla, and I manage to sneak cilantro and avocado into many of my home cooked meals. When I'm in Chicago, I eat Mexican more than any other continental cuisine. When traveling in Asia, a lot of Americans get cravings for hamburgers and French fries. These are supposedly our "comfort foods". However, when I'm at home or abroad, I crave nothing more than tacos and burritos.
Imagine peppers, avocados, grilled onions and mushrooms. Pork, chicken, beef, and seafood. Melted cheese, tomatoes, potatoes, and lime. Pungent spices and savory herbs. Mexican food uses ingredients galore. Think freshly cut and/or killed meats and vegetables. Nothing is artificial or filled with preservatives.
As one of the most versatile and varied cuisines, the cultural aspect of Mexican cuisine takes on a personality of its own. Mexican cuisine has a history of incorporating fresh fruits and vegetables with local wild game. Over the centuries, traditional Mexican cuisine was subject to the influence of other nations…
Each region in Mexico has its own type of food. Meat dishes are popular in the north, while in the south more dishes with vegetables and chicken are common. Communities along the sea enjoy a lot of seafood dishes…Some Mexican recipes incorporate influences from South America, the Caribbean and Africa. Common foods, such as tacos and tamales, receive a special touch in each region of Mexico…
Mexican cuisine incorporates the cooking of ancient Aztec and Mayan Indians with ingredients and cooking techniques that originated from all over the world to create its unmistakable flavor…Anchiote seeds and paste often season chicken and fish; dried and smoke jalapeños give Mexican soups, salsas and sauces a smoky flavor. Mexicans cooking also uses canella (white cinnamon), which has a more delicate flavor than its American counterpart (Interesting Mexican Cuisine Facts and History: 2012).
It's like my good friend Brian once said: if a country's food isn't good, then it isn't worth visiting. Readers, I hope you like stories about people stuffing their faces, because this is definitely one of them. I used the fact that I was in Mexico City on Fat Tuesday as an excuse to gorge myself on as much food as possible. Above is my friend Rubi and I at a local taqueria. Can you see the fire in my eyes?
It is in El Jefe, this nation's capital, where culinary influences from all regions merge, resulting in an absolute foodgasm of flavor and sabor. I walked around the city, going from food stand to food stand, stuffing myself silly full of tacos and tortas. It was an affordable adventure - it's rare for street tacos to cost more than a dollar. I even tried a taco with cow tongue. It was definitely tasty.
Most notably, the street food in Mexico is out of this world. I recommend that everyone who visits this country brings plenty of Imodium so they can hit up these vendors. You'll pay for it later, but hey, travel is about living in the moment! At one taco stand, I washed my meal down with the greatest horchata of my entire life. This rice water was sweetened to perfection with just a hint of cinnamon and chunks of coconut pulp.
I stopped at another taco stand, which included a buffet of tasty toppings to add atop this Mexican culinary masterpiece. One of the greatest aspects of Mexican street food is the toppings and sauces that are served on the side. My tacos were prepared with care by a pair of gentlemen in wide brimmed hats and bright blue aprons.
I piled high the red and hot verde salsa, diced onions, assorted vegetables, fresh cilantro, and some kind of creamy green sauce served from a large grey pestle. It was absolutely delectable. I then squeezed a wedge of lime over my taco. I relished in its rich smoked picante flavor as the contents spilled out from the tortilla, covering my hands in the ooze of flavorful sauces that dripped out from the shell and onto my paper plate. Now this was Mexico.
To learn more about fresh ingredients, I visited a local market in Oaxaca. It was there that I got to try eating a grasshopper!
Back in Mexico City, I had just one thing on my mind: tacos. Another reason I love Mexican food so much is because of the spices.
Lovers of Mexican foods enjoy it for its flavorful kick, use of fresh aromatic ingredients and colorful presentation….Many believe that chilies, one of the most recognizable flavors in Mexican cooking, was originally cultivated in South America. Birds disperse the seeds, and may have carried them throughout the Americas. Mexicans continue to use dozens of varieties of chilies in cooking (Interesting Mexican Cuisine Facts and History: 2012).
I first developed my addiction for this mouth burning flavor sensation while living in Thailand, where the local fare was notable spicy. I would say that authentic food in Thailand is often much spicier than Mexican food, although salsas and picante rank a close second with regards to intensity. Still, Mexican vendors often felt the need to warn me about heat, and gaped in amazement as I piled spices high atop my flavorful tacos. What can I say, when it comes to hot sauce, I'm pretty hardcore. One of the nice things about Mexican food is that you can control your own heat as spicy sauces are provided as a condiment on the side. Therefore, even those without intrepid taste buds can enjoy this flavorful cuisine to their own flavor preferences. Don't forget – if you make it too spicy; squeeze a few lime wedges on top to tone down the heat.
A sweet mannered elderly woman served me enchiladas with mole, a chocolate and pepper sauce that is typically prepared for special occasions. This was topped with queso, or cheese. Eating this dish made me feel like I'd died and gone to heaven. Yet, I was still very much alive, because heaven just happens to be south of the border!
On my return trip from the Anthropology Museum (which is one of my favorite museums in the world by the way), I purchased a quesadilla from a street vendor located next to a fruit stand. It didn't look like any quesadilla I'd ever seen before. To be perfectly honest, with its curvaceously odd shaped shell topped with a sloppy glob of thick white sour cream, it greatly resembled female genitalia! (Quesavagina?) With all that creamy goodness, it looked almost like this quesadilla had a case-a something else. My eyes were deceiving. All perversions aside, I drizzled a little red hot sauce on top of the food, and it tasted amazing.
At yet another food stand, I ordered what turned out to be the greatest torta of all time. I asked one of the cooks if he would take a photograph of me with this phenomenal work of sandwich perfection. Another cook stepped in to be in my photo, putting his arm around me. I don't think he was so happy to be in my picture as he was to have his hand close to my breast, halfway trying to cop a feel. It was funny, he was flirting, and I laughed at the awkwardness of the situation. Whatevs. I was eating like a total glutton, and I'm glad at least somebody found that attractive.
Having been in Mexico City for Fat Tuesday, I'm not kidding when I claim to have done Fat Tuesday right. On a holiday when most people would be drinking, I ate so many tacos that I literally passed out from a food coma. When I awoke, I went out for more tacos. I am a total food tourist; that's what's up.
When it comes to finding the best street food, a good tip is to look for food stands that have a lot of people standing around them. At another stand, I savored what I interpreted to be "soggy nachos". They were corn chips soaked in a creamy sauce. Oh, and the homemade tamales! *Insert Homer Simpson gurgling drool noise here*
By nighttime, I found a stand in a barrio called Condesa where the steam rose from the simmering meat like an active volcano. Here they served mini tacos, which were as phenomenal as ever, as a television played the latest futbal tournament. Customers stood in the sidewalks around the food stand, eating and cheering for their favorite teams.
In Oaxaca, I took a Mexican cooking course at a culinary school called Casa Crespo, so that I might further indulge my obsession for this cuisine. It was there that I learned how to make a dark mole sauce (with seventeen ingredients!), hand-made tortillas, mescal sorbet, black bean soup, various guacamoles, and other kinds of Mexican fare.
We even learned how to fry up some flowers! Culinary classes are a great way to have hands on experiences and learn more about local culture, no matter where in the world you find yourself eating.
Mexico is a food tourist's dream come true. Whatever you do, don't go on a diet. There's no better New Year's resolution than to eat more tacos in 2014.
-Kat Vallera, creator of NomadiKat Travel Media, author of "Around the World in 80 J's"
Feel free to follow all the food, follies, and adventures by liking NomadiKat on Facebook.
"Interesting Mexican Cuisine Facts and History." Acapulcos. La Campesina, Inc., 28 Sept. 2012. Web. 09 Jan. 2014.
Tip: Want to savor your own taco apocalypse? Find cheap fares to Mexico City, like this one from Chicago for just $334 round trip!