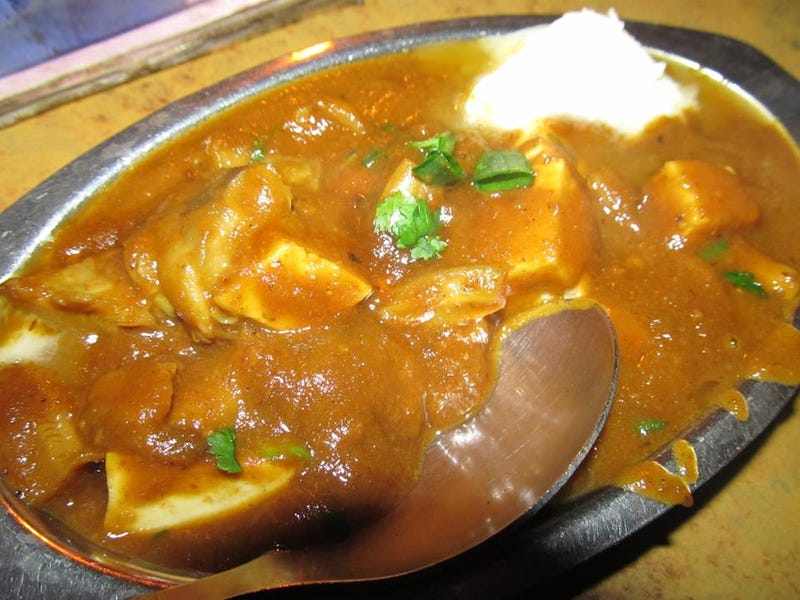 I once had Nepalese food with my friends Jessica and Shannon in Sonoma, California. It tasted just like Indian food, and I thought, this can't be right! There's got to be more to Nepalese food than meets the Western palate!
It's true - Nepalese food is NOT Indian food. While it is very easy to find Indian food in Nepal, and tandooris are common, it is important to point out that traditional Nepalese food is distinct and unique, just like the culture of this mountainous nation.
Let's start with "mo mo", a common appetizer turned meal found around Kathmandu. Mo mo are like Nepalese dumplings, filled with potatoes, vegetables, or sometimes meat. They are covered in a sauce that can be very hot and spicy. A plate full of local mo mo from outside the tourist area cost me fifty Nepalese rupees, which equals about fifty cents USD. They were incredibly filling.
Many Nepalese meals are based around rice. On the side, you are given a thick porridge like soup of flavorful grains and spices. Also common are pickled chili, and other vegetables, especially curries based in spinach or potato. A full Nepalese meal like the one pictured above should cost less than a dollar.
Meat is rare in Nepalese food, although they do eat a lot of kabobs. In fact, I don't think I ate a single piece of meat for my entire visit. Perhaps this is due to the prevalence of Buddhism in Nepal, but expect to eat a diet based largely on rice and vegetables.
You may eat Nepalese food with a fork and spoon, although most locals scoop up their rice and vegetables using their hands. One restaurant I patronized was experiencing a power outage. Yet, this did not stop them from preparing a fantastic meal by candlelight! Lack of electricity is not uncommon in Nepal.
Nepalese food is warm and flavorful, and the people who serve it are kind and welcoming. Enjoying Nepalese food is an excellent way to treat yourself whether you're taking on some serious mountain trekking, or just gazing upon The Himalayas. Namaste!
-Kat Vallera, creator of NomadiKat Travel Media, author of "Around the World in 80 J's"
Get off on more food porn and other travel photography by liking NomadiKat on Facebook