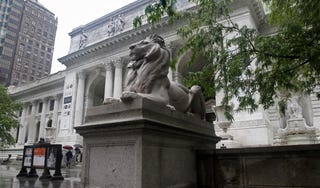 However you feel about the plan for the 42nd Street Library this article is a good read about the way money effects libraries and what happens when the public finds out you've decided they don't need to be consulted. In my view the worst part is this:
Marx asserted in February that the CLP "has been the subject of public discussion for five years." But the decision by the trustees to sell Donnell in June 2007 without any public consultation makes a mockery of that claim.

Second, librarians must be involved in library policy. The NYPL's staff was mostly excluded from the conception and execution of the CLP, and excessive power was concentrated in the hands of two men with no library training, both of whom provided continuity between the LeClerc and Marx regimes: Marshall Rose and David Offensend. The former is a wealthy real estate developer; the latter worked in finance before coming to the NYPL in 2004.
That is shameful.