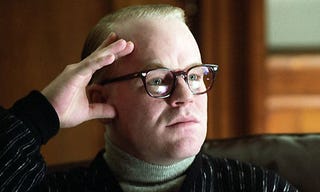 I was a huge Philip Seymour Hoffman fan. His movie, Capote, was one of my favorite movies of all time. I cannot read the comments on the main page without wanting to strangle something or someone, so I'm putting this here as a placeholder for respectful conversation amongst peers. Feel free to talk amongst yourselves!
[ETA: I cannot find the original comments that I saw on Jezebel in what were probably the first five minutes of their posting. Perhaps Doug Barry took them down? In any case, most people have been very respectful, and the ratio of reasonable to stupid is much more tolerable than what I originally saw. Nevertheless, I'm still glad I added all these movie clips.]
Hoffman playing the violent proprietor of a phone sex operation in Punch-Drunk Love by Paul Thomas Anderson.

Hoffman playing Father Flannagan in the movie Doubt.

Hoffman as Capote. Watch it again if you can! Such an amazing work.

Hoffman in A Late Quartet.

Hoffman in Pirate Radio aka The Boat That Rocked.

Hoffman as Lester Bangs in Almost Famous.

Hoffman as Lancaster Dodd in The Master.

Video trailer for the movie Love Liza.

Boogie Nights.

A minor part as Brant in The Big Lebowski.
Hoffman describes his friendship with P.T. Anderson and filming The Master.