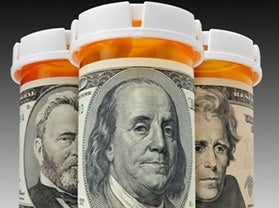 I've been a bit under the weather this past week. Nothing major, just a minor respiratory issue requiring a couple prescriptions. Unfortunately I don't have prescription coverage, making filling prescriptions a costly burden.
Luckily I've worked many years as a pharmacy technician for a couple of major pharmacies, both Long Term Care, and retail. Through this employment I was able to learn a few tricks of the trade when it comes to saving money on prescription drugs. Some times the savings can be as much as 75%, and depending on the med it may even be free (no exaggeration).
Prescription Discount Cards
Most major retail pharmacies offer their own discount cards for the uninsured. In a pinch I would use them, but putting in a bit of research is best. In order to get these discounts you have to request that the pharmacy place a discount card in your profile. They're companies, not charities, they won't offer up drastic savings without you asking.
Last month while getting an item filled, I happened to be standing behind a young adult(18-21 yrs old). I over heard the tech asking him if he had insurance coverage, and he replied "no". He was told his eye drops would be $61. He told her to fill it, and he walked off. I dropped my RX off, and immediately searched the entire store for this guy, eventually finding him outside on the phone with someone complaining about the price. I apologized for eavesdropping, and told him to have the tech use a discount card I happened to have on hand. After processing the card, he comes to where I was siting to tell me it brought his eye drops down from over $60 down to $16, and without that discount he wouldn't have been able to get it for another week. So it does work people. Lol.
You can get discount cards from many sources ranging from AAA, to your credit card company, to a simple google search. Remember to NEVER PAY FOR PRESCRIPTION DISCOUNT CARDS! NEVER! While there might be exceptions to this, I've yet to find a paid discount card that was worth the enrollment fee, or wasn't a scam.
Most online discount cards may ask you to register your email address for enrollment. That's usually not necessary. All the info the pharmacy needs is already on the blank copy website will post as an example of what the card will look like. It'll look like any ordinary insurance card except the beneficiary's name is missing. You ca print out a copy of the page, but in my case I just write down the info I find on the card. The info you'll need is:
-ID#_______
-Bin #________
-Group#________
-Prescription processor's name (usually at the top, or on the back of the card)
-Prescription help desk phone # incase there is an issue processing the discount card. (#'s usually found on the bottom, or on the back of card)
The frustrating thing is every card gives varying discounts depending what card you use, and which pharmacy you go to. I find keeping 3, or so on file works best. Most discount companies use the same processors, making the search a little less daunting. I also recommend initially skipping the technician, and explain to the pharmacist that you have a few cards, but aren't sure which one will give you the best discount. Most pharmacists are extremely helpful, and just as long as you're not an ass about it, they'll be more than willing to help. Also, if you have multiple rx's, let the pharmacist know you're willing to come back the next day, therefore giving them enough time to do the research for you. If you have multiple scripts that you will need filling on a regular monthly basis, keep record written down which card works best with which med . And every time you have them filled, inform the staff on what card to use for what med.
I know it may seem time consuming, but the price difference can be huge, double-triple digit huge!!!. Last week I had to fill a script at CVS. My total came up to $65 without the disc. card, and $20.91 with the card. It amazes me how many people don't even realize you can do this.
Splitting Tabs In Half
Another helpful hint is to communicate with your doctor. They're human, and the sometime forget to take into account that not everyone is able to pay for their meds. Here is one trick I learned with a heart med I used to take. Originally my script called for me to take 10mg at bedtime. Working in the pharmacy I knew my med also came in 20mg tabs. So I immediately has my doctor change the script to one-half of a 20 mg tablet at bedtime. It was cheaper to buy the tablet whole, and cut it in half, also doubling my supply at the same time. Keep in mind not all tabs can be cut, nor should be cut in half. A clue to whether or not your tabs can be split is to see if the tablet has a score mark down the middle. If it does, chances are good your doctor may allow you to split it in half.
Grocery Stores/Free Antibiotics
There are some grocery store chains that offer free antibiotics during the flu season. A couple even offer this option year round. I find grocery stores often offer flat rates for many generic meds for a 30-60-90 day supply, usually running around $10. (Name brand not included)
Selling Your Soul To Satan
Another great option is Walmart. Yes, I know many people despise this evil empire (including myself). But when you're broke, sometimes your ethics needs to take a backseat. Due to Walmart's purchasing power, they can offer a list of many generics for $4-30 day supply.
For Locals Only
This last tip is only for locals in the Greater Hartford area. There is an mobile clinic in the Hartford, Ct area called Malta House of Care. They offer basic medical care to the underinsured for either free, or at a greatly reduced cost. Typically even cheaper than the "free clinics". The great thing about Malta is they actually help with the cost of medication (including maintenance meds). If you don't have an income you're medicine is covered 100%. They came in handy two winters ago when I developed pneumonia, and was discharged from the hospital with $300 worth of meds I needed filling. The downside is they are first come-first serve, so arrive early. If they feel you need more extensive follow up care like X-rays, they'll refer you to their partner hospital, costs still covered.
I may have missed something, if so include it in the comments below. And if you have any questions for me, ask away. I'll try my best to answer, or find an answer for you.
Free Antibiotic Participants-
Publix- they also offer free Metformin, And Lisinopril
Meijer- also free prenatal vitamins
Schnucks
Price Chopper
Stop & Shop
Giant Eagle
Reasors
Shop Rite-also free diabetic medication
I should add that while these stores offer free antibiotics, it's a limited list. Usually comprising of the most common ones like Amoxicillin, Bactrim, and such.
Here is the discount card I use at CVS. It gives me the best discount for what I am on. But remember savings will vary by location, and medication.
Merck PPA Program-
http://m.merck.com/mt/www.merck.c…