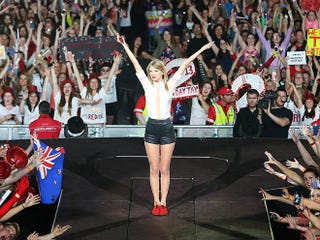 I went to a lot of concerts in my youth, but since cellphones became ubiquitous, I've only been to festival-like things on a lawn, clubs and sit-down affairs. Today I found myself in a waiting room, looking at a People magazine, when a question was raised by a Taylor Swift pic.
A wider and deeper version of the above photo from a concert in Australia was used as a spot-the-differences puzzle, so to play the game, I had to look very closely at the images.
Though it's not very obvious in the cropped photo, something which jumped out at me are the number of people with phones in their hand. The majority of these phones aren't pointed toward Swift as if they're filming the show, so I don't know why they're out. My wife thinks maybe it's to protect them, where they won't be stolen by pickpockets in a crowded venue and one of my theories is that maybe they're recording sound.
Other possibilities are that they're being used like lighters were for my generation, except the place looks to be very well lit or maybe there's a security blanket angle, where they just feel more comfortable with their hands on a phone.
If anyone knows or would like to take a guess, I'd like to know.
Thanks.