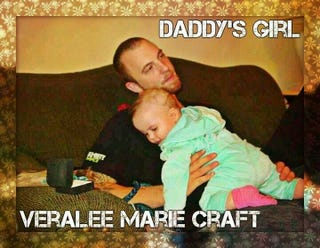 Almost two years ago Preston King, 27, fatally beat Veralee Craft in Virginia after a history of abuse. He was sentenced to 60 years. This is not his story. This is trashier, and it's the story of Jonathon Craft —Veralee's dad. He has a warrant out for his arrest, cause he did some white trash shit. As usual a charity is involved in a rich white trash scheme.
You see, Jonathon Craft saw the terrible side of humanity when he witnessed the damage his ex-wife's boyfriend did to his daughter. He told ABC 13 WSET:
"I saw my daughter lying in a hospital bed with bruises all over her face. She had a busted up nose... skull fractures. Her eyes were red and puffy. She just she didn't look good."
Then he allegedly decided to add to that terrible side by pretending to raise money for a charity that helps child victims. You know white people, always turning tragedy into trage-gimmie. They think their white hand is invisible —while we can all see it stealing. Jonathon Craft created a non profit charity Justice For Veralee Marie Craft and solicited donations over the web and in person at such classic rich white trash places as a wing joint, from The News & Advance:
On April 18, several bands played a show at Toppers Wings N Things on Fort Avenue. Cover charge was $10, according to a post Jonathan Craft made to the event's Facebook page. The name of the page was "In Memory of Veralee Marie Craft: proceeds to Casa [sic] & Compassionate Friends."

[Executive Director of Court-Appointed Special Advocates, Allison] Wingfield said her group hasn't seen any of those proceeds.
Jonathon Craft might have made away with over a thousand dollars that people donated, thinking it would go towards helping victimized kids, like Veralee, by appointing them advocates for court proceedings. Instead, they possibly were giving money to another man looking to use poor Veralee. First she was used as a punching bag, now she could be used as a means to steal. Police are looking for Craft on felony charges, since the sum he stole is over $200. Maybe he'll update his twitter and the cops will get lucky, he's always looking for good ideas:
Then again, maybe he's already gone:
It must be awful to be lied to and taken advantage of, I wonder how Jonathon Craft would feel about that:
I guess then we have to remind him that honesty is the best policy for charity too.