When Team Cat declares victory, this shall be our homeland. Riga is one of my top five favorite European cities.
Many, many years ago if you lived in Riga and were in business then you just had to be a member of the Great Guild. Until you were invited in to its hallowed halls you simply had not made it. One Latvian businessman was incensed when he was not admitted to the Guild and hatched a peculiar, personal and unique form of revenge. He happened to own the building across the way from the Guild. So, he ordered two sculptures of black cats made and placed on the roof of his building (Kaķu nams in Latvian). Not only that but he ordered that they should be turned away from the Guild, backside up.
Perhaps this will be a lesson to my friends at Team Dog. Not only shall you see the vengeance of kitties, you shall taste the wrath of our backsides.
Cats are beloved everywhere in Riga with a lovely series of cat stamps, a proper tribute to our feline friends.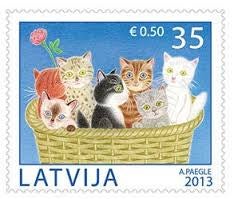 And of course, there are classic cat beauties, with stripey faces and eyes. Latvia and especially Riga, indeed is the hope for all great communities.
Cats, wild and domestic. Travelling throughout Eastern Europe, I did notice many things—including that countries overall (though with individual differences, of course) seemed to favor cats or dogs.
Czech republic: Dogs. Slovakia Dogs Hungary: Dogs Poland: Dogs Slovenia: Dogs Croatia: Dogs Serbia: Dogs Bulgaria: Dogs Lithuania: Dogs Latvia: Cats. Beloved haven for kitties. LATVIA. KITTIES EVERYWHERE.