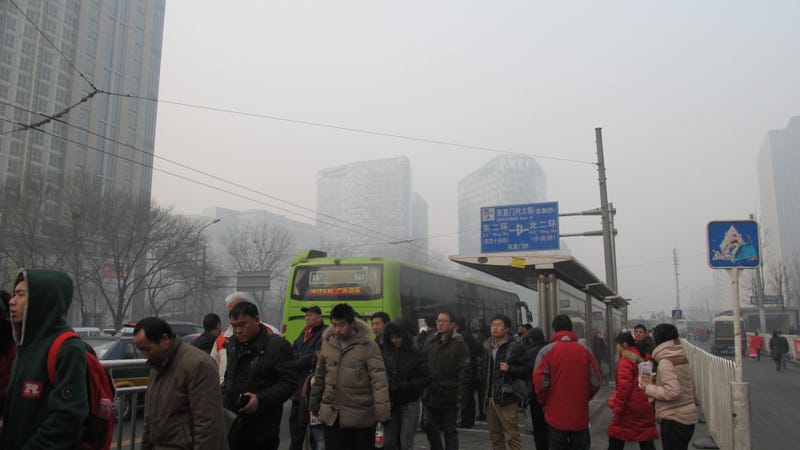 Usually when flights get delayed, everyone reacts with anger and frustration. Not me! Free day in Beijing, China at a four star hotel? Thanks, Hainan Airlines, don't mind if I do…here's how I exploited this great opportunity.
I spent about two hours in the bathtub drinking complimentary green tea while watching samurai soap operas. When I finally did manage to venture out, I took the bus down to the city center to explore Beijing.
The first thing I noticed about this city was the huge cloud of yellow. It's like walking through a constant cloud of burnt sulfur and egg rolls. The smog is so thick that it's often difficult to see off in the distance. Large, towering buildings disappear into the sky behind the bisque fog.
The buildings themselves are large and in charge. Tall towers often stretch entire blocks, reflecting Beijing's strive for modernization. Like the architecture of Cuba and Vietnam, China's structures themselves reflect the nature of their economy. The buildings are impressive and grand when they first meet the eye. Yet, upon closer inspection, the large cracks and holes, which climb exterior walls, become as outright and obvious as the flaws in their system. Communism, like these big major buildings, is great in idea. However, in practice, it's hard to watch crumble.
With regards to the population, the people of Beijing are incredibly kind and welcoming. Hardly anyone spoke English, yet they were eager to help as I successfully mimed my way around their public transportation system.
Beijing is a major metropolitan, world-class city. That is why I was surprised that for my entire stay, I did not see a single other Caucasian person outside of the airport. Not a single one. Perhaps my experience was unique, but for those twenty hours, I was as foreign as curry at Applebee's®.
I went to Tiananmen Square, which was difficult to explore because I was constantly being recruited to pose in other people's photographs. I was as much of a photo op as the government monument. Some women asked me (in mime, of course) to hold their babies as they smiled and waved for the cameras. I happily obliged, wishing to show friendliness and permit their requests.
I stood out so much that one security officer requested to see my papers. I got a little nervous (I was technically in transit and did not have a visa), but quickly suppressed this sensation because I knew that I wasn't doing anything wrong.
"Chicagoooo!" he said to me, smiling as he inspected my identification.
I found a woman making these amazing cilantro spicy omelets from her cart on the corner. The warmth of this food felt good against the cold January air. More people requested that I pose in their pictures. I watched a street musician bowing his er-hu, a traditional two-string Chinese instrument, from the shelter of an underpass.
Overall, I was thrilled to have the chance to explore Beijing. For free. It felt so good to check out of my hotel and not owe a penny. Rather, a Yuen.
My experience with Hainan Airlines was far superior to any other airline I've have encountered, and this goes beyond my free stay in Beijing. Their customer service, both in Chicago and Beijing, went above and beyond what I tend to expect from modern day air travel. Hainan's agents were incredibly helpful on both ends of the trip, keeping me well informed and making sure I was always accommodated. In the air, Hainan's service was comfortable and prompt, and their food actually tasted like real food, which is nice.
I guess I have low expectation for air carriers these days, but Hainan went well and above the modern norm for service. Not to mention, their fares were a steal! Thanks Hainan Airlines - I'll never fly American again.
-Kat Vallera, author of "Around the World in 80 J's"