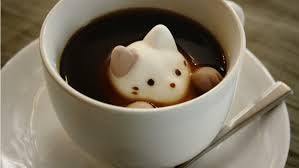 I got this travel mug* that is the perfect size for my Nespresso Lungos. SO ADORABLE, I COULD DIE. I also bought some vanilla syrup to make vanilla cappuccinos. I also bought some 'nip for the cat.
I AM VERY HAPPY. CAPITALISM, FUCK YEAH
PS MY POWER WENT OUT. Now it is back on. Thank you, Peco.
*not the pictured mug—in the link!