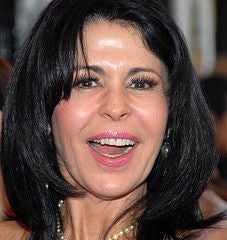 I'll be honest, Maria Conchita Alonso is one of those names and faces I recognize, then I may think of Moscow on the Hudson which was her big, breakout role. Prior to this morning, I knew nothing of her politics.
The headline best describes what is happening today. The Ministry of Home Affairs, Justice and Peace in Caracas announced they are starting the process to revoke her Venezuelan citizenship by naturalization. The actress became a US citizen in 2005 and travels with a US passport. After having been born in Cuba, her family emigrated to Venezuela in 1962 to escape Castro, where she lived until reaching adulthood, winning a few beauty pageants along the way. Venezuela was also the base from which she launched her musical career. Embedded below is her first number one song, "Love Maniac" from 1979. She has also won a "Best Latin Artist" Grammy according to Wikipedia.
The crowdsourced encyclopedia also says she campaigned against President Obama and has been a vocal critic of Hugo Chavez, while it and a web search showed me that earlier this year, she was dropped from a San Francisco production of "The Vagina Monologues" because she had endorsed a Tea Party candidate for California Governor, appearing in one of his ads.
At issue now is that she reportedly said the United States should invade "with bullets to take out all those communist bastards", which the government is calling treason and she's been very critical of Chavez's and Venezuela's relationship with Cuba. Her response to the attempt to take her citizenship is that it is unconstitutional because she emigrated while younger than seven, which is a specific condition outlined in their country's governing document.
(h/t AP)