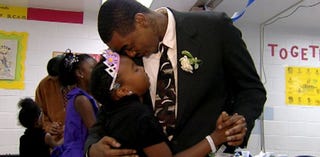 Ok this is pretty damn awesome.
(Edit: This is from earlier in the year, just saw it going around today.)
Hours before the dance, the men expected to meet their daughters are brought suits and dress shoes to their jail cells. Some of them are wearing a tie for the first time. Outside of their orange jumpsuits, they look like everyday men.

At home, 8-year-old A'maya Thomas was getting ready too. Her father, Antoine Thomas, is serving time for robbing a bank. "I get to touch him and I get to hug him and I get to kiss him," she said.

When the big moment arrives, the young girls in brightly colored dresses are escorted down the drab and dreary halls of the jail. When they walk past the solid steel mechanical doors, the fathers waiting on the other side start to cry. The young girls bounce across the hall and into their fathers' arms.

The dance itself only lasts for a few hours, but in that short time, the young girls have real moments with their fathers.

When the men do time, their daughters do time, and they told us they plan to never let that happen to the girls again.