First it's girls using their thongs to show whale-tale while wearing jeans, now this???
Ok. I'm waiting in line to pick up my strep meds. And I come across this. She had on some small workout shorts, but she paired it with humongous granny panties. Not that there's anything wrong with granny panties. They're comfortable as all get out. But I never knew it was the norm to have them showing like this. Ya gonna go out wearing booty shorts at least pair them with a thong, or hi-cut drawers. Or in my case, go commando. But what do I know? I grew up being taught a true lady doesn't cross her legs at the knee, or wear anything what will show off her bra strap.
It was such an odd sight that a lady standing behind me, and I were looking at each other with the crooked eye. You know that look where you don't even have to exchange words, and you already know what each other's thinking. Lol. I initially thought she wasn't even wearing any bottoms over the panties.
So it's now come to guys sagging so low that the top of their draws is showing, and now girls wearing shorts so small that the bottom of their pannies are out.
What's next? Just forgoing pants/shorts all together with 'err body walking around in underwear??? Lol.
I swear, I come across some of the oddest stuff while out, and about.
CVS usually being the location of most of my odd encounters.
I wanted to just place a link directing you guys to my older posts inside the text of my post(not sure if there's a technical term for it. Sub-linking perhaps? hehe). But it's not possible when using a smartphone. So I'm just going to insert some of the pics from my older Crosstalk posts where I wrote about strange things I see.
This lovely sight was while at CVS. I assumed he was someone hired for the Easter Season. The cashier casually tells me "no. He doesn't work here. He comes around every holiday dressed up as a different character." As she's telling me this, I turn around to see random kids taking pics with this guy. Screams molester alert.
This is self explanatory. I have a major pet peeve with saggers. It's not cool. You look like an idiot. No one wants to see your nasty draws.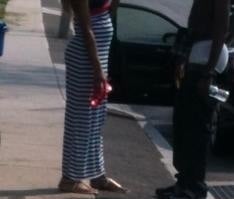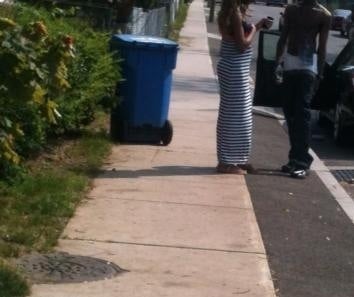 BTW, I did come across a lady in fabulous shoes while riding an amazing looking scooter. So my day wasn't all a waste. I wonder what kind if scooter this is? Anyone???
(Note: Excuse any formatting/spelling mistakes. And many of you may already know, Kinja behaves kind of wonky when posting via smartphone.)